This blog post is about a demo account, which we call a free challenge in our firm.
This challenge is suitable for traders who question the profitability of their method and wonder whether they can qualify as ideal candidates to work with a prop firm.
In this blog post, we will discuss our free challenge and provide a step-by-step guide on requesting one.
What is Propiy, and How Do They Help Traders?
Propiy is a prop trading firm offering capital to professional traders who are experienced and able to gain profit from the money the firm gives to them.
As a trader participating in Propiy's challenges, you can trade a variety of assets, including stocks, currency pairs, futures contracts, and cryptocurrencies. Also, the broker will be chosen by the traders.
The aim is to fund capable traders who need more money to put into trading and receive massive amounts of profit.
The mechanism is simple! The trader will be funded and start trading on behalf of the Propiy. If everything goes as desired, the generated yield will be split between the trader and the firm. This way, each side takes the benefit of profitable trading. In case of losing money, the trader will lose a tiny amount invested in buying a challenge from the Propiy. The firm suffers more, as they support the primary capital for trading.
In order to get accepted as a suitable candidate to receive funds, the trader must participate in challenges designed by the Propiy team and pass them.
Each challenge has its own specific rules which traders must adhere to. There are predetermined daily and max drawdowns, pre-agreed profit targets, and minimum trading days.
Upon passing one of these challenges, the trader will be counted as a trustworthy prospect with a profitable strategy to increase the firm's initial investment.
We strongly advise you to read the conditions on the Rules page to get familiar with the obligations of the platform.
Furthermore, there is another approach called Jetjump, which is the right choice for those confident about their strategy and sure they can be profitable for the firm.
We nicknamed the JetJump, the fast route! Because it requires no time to prove the capability of the trader. Traders who choose this method receive funds quickly and can begin trading on behalf of the company immediately.
Well, as we said, you have to prove yourself as a profitable trader in order to get capital and conduct transactions on financial markets. What if you're not sure about your capabilities? What if you are still determining if your strategy is profitable enough?
There is a free challenge in which we don't charge traders to give them funds. Actually, this challenge is similar to a demo account, where the trader can test their capability and find out if it is wise to opt for a real challenge, where they should invest a tiny amount and pass the challenge to receive capital.
Everything About Propiy's Free Challenge and How to Participate in It
As stated earlier, this part is specialized for those groups of traders who want to get funded from Propiy but are unsure if their strategy is profitable. So, if you're a professional trader, confident about your trading method, you can skip this part and the whole blog post.
But for people who want to test their knowledge!
First of all, there is no relation between this challenge and other challenges, in which the trader should pay a tiny amount and pass the phases to get funds. This challenge aims to provide a space for doubting traders to test their strategies and qualifications to find out whether they fit the firm's conditions.
Please note that each account is limited to one free challenge, and additional free challenges are not permitted.
Upon successful completion of the free challenge, traders will gain confidence to purchase a real challenge at an affordable price. After passing the bought challenge, the trader will receive the real money and can start trading on behalf of a company.
It is crucial to adhere to the rules and restrictions; failure to comply results in the account being revoked.
How to Participate in Free Challenge, Step by Step
Firstly, you must sign up on our website and create a profile. After completing the sign-up process, enter your dashboard. To proceed, click the orange button at the page's top right corner. Refer to the image below for visual guidance.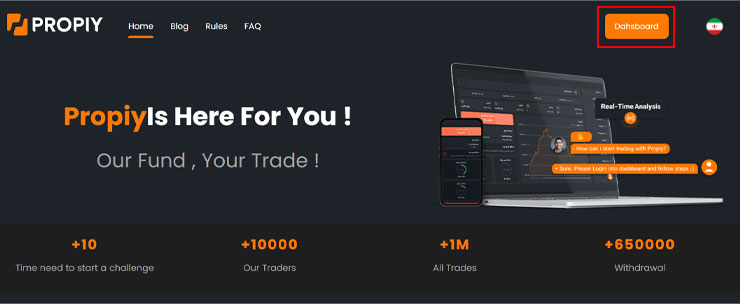 After clicking, as you might expect, you'll enter your dashboard. It is something similar to what is shown in the image below. You'll notice a box labeled 'Free Trial' on the right sidebar of the page.
You will find an orange button in the box labeled 'Start.' Click on this button to proceed.

Upon entering the page, you will find the rules of this challenge. Before requesting a free challenge, you should be aware of these conditions:
Each individual (account) can request a free challenge only once.
The free challenge's duration is 5 days after submitting the request.
Once you have created a free challenge, you'll only have 1 day to trade. The free challenge will be stopped unless you start trading within a day.
The free challenge is designed to test the broker and Propiy's website and won't include further phases.
If you are fine with the terms mentioned and can adhere to them, enter your mobile number and click on the yellow button labeled 'Request' below the field.
Upon entering your mobile phone number, a code will be sent to you via sms; enter the code in the designated field and click 'Request' once more.
Next, you need to select your preferred server, platform, and desired balance.
All three server options are demo accounts, as this is a free challenge and aims to provide demo trading. Select the one on which you would like to conduct transactions.
Under the Platform section, you will find only one option: MT4. Go on with it.
Lastly, you can select a balance from three options: 10 thousand, 25 thousand, or 50 thousand.
Finally, check the box below and click on the orange 'Create Account' button.

A message will appear in a green box indicating your request has been successfully submitted.

According to the rules, you can delay the start of the process to one day; after that, the free challenge will be canceled, and you cannot request another free challenge. Furthermore, you have a time limit of five days to trade on this challenge. Stick to the rules to prevent any issues or complications.
Join the Professional Traders Getting Funded From Propiy Now
Numerous experts are already utilizing Propiy's services for their trading needs. We provide the capital, and you generate profits using it. The profits earned will be shared based on a predetermined percentage agreed upon in the challenge's conditions.
If you possess confidence in your trading abilities, we will entrust you to trade on behalf of our company. Even if you have doubts, you can request a free challenge to test your strategies in a demo account before getting into action.
Sign up now. We warmly welcome new traders.